"Have the Faith of God: When You Pray!" Series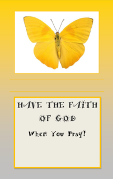 Outline
I. Introduction – Session I – Part 1
II. What Does It Mean to "Have the Faith of God?" - Session II - Part 2
A. "Agreed" – Amos 3:3 – Part 2-1a
B. "Agreement" – Dictionary.com – Part 2-1b
C. "Agree," "Agreed," "Agreeing" – Definition – Part 2-1c
D. "Agree," "Agreed," "Agreeing" – Definition – Part 2-1c-1
E. "Agree," "Agreed," "Agreeing" – Definition – Part 2-1c-2
F. "Agree," "Agreed," "Agreeing" – Definition – Part 2-1c-3
III. What Does It Mean to "Have the Faith of God?" - Session III - Part 3
A. What to Do When We Have a Need? (Mark 11:22-24) – Part 3-1
1. Pray – Part 3-1a
a. Definition of the word "Ask" – Part 3-1b-1
b. NIV Dictionary's Definition of the word "Prayer" – Part 3-1a-2
c. When Jesus Prayed – Part 3-1a-3
2. Ask – Part 3-1b
a. Definition of the word "Ask" – Part 3-1b-1
b. NIV Dictionary's Definition of "Ask" – Part 3-1b-2
c. Definition of the word "Tell" – Part 3-1b-3
3. Believe – Part 3-1c
a. Definition of the word "Believe" – Part 3-1c-1
b. Definition of the word "Believe" – Part 3-1c-2
B. Men Who Had & Did Not Have God's Faith – Part 3-2
David – 1 Samuel 30:8 – Part 3-2a

Abraham – Romans 4:18; Genesis 15:6 – Part 3-2b

King Jehoshaphat – 2 Chronicles 20:15-18 – Part 3-2c

King Saul – 1 Samuel 13:5-14 – Part 3-2d
IV. Conclusion – Parts 4A-4C
Have the Faith of God: When You Pray!
I. Introduction – Session I – Part 1
In September 2013, after years of waiting for something I "believed" would happen, fell through – again! I am not going to lie to you, I was shaken or should I say very shaken:)! I could not understand "Why?" but I thank God for just wrapping me in His arms, regardless of the fact that I was upset, and let me know He loved me! It amazed me that God still loved me in spite of me being upset; when I thought of how much He loved me, I broke down and begin to cry!! What a loving God!! This incident of God wrapping me in His love reminds me of another incident that happened to me years ago; I was at my lowest point and God reassured me of His love for me!! I felt God's heart for me as I was going through one of the many abusive moments I have been through. God used my friend to tell me, in such a very compassionate way, that He knew what I was going through but I had to go through it at that time! I did not have a clue at the time why I had to go through it; God just told me I had to go through it! God did not tell me why I had to go through what I went through until 15 years later; He told me I went through the abuse not for myself but to help other abused women – God told me "Heal my women!" Oh, what a loving God we serve!
I repented to God for my behavior; my reaction to the disappointing news. The devil tried to get me to ask God "Why You allowed this when I have been waiting so long?" but thank God the Holy Spirit griped me and caused me to bring that thought into captivity to the obedience of Christ (the Word)! I ask the Holy Spirit to filter my thoughts a lot; not to allow negative thoughts to get through Him no matter what! Yes, I asked "Why" but I asked God in a way to understand not in an accusatory way and because of this, God gave me the answer to my "Why?" and His answer is the reason I am writing this message.
Click here for complete teaching in PDF
God's Blessings,
Dr. Dorothy E. Hooks
Please read copyright information:
NOTE: These materials are copyright protected therefore you must request permission to reproduce any part of this material. To request permission, please contact Dr. Dorothy E. Hooks: drdehooks@abusedwoman.org.